How does eyeTest.com work?
In Three quick steps, you'll get your script. Ready?
1 Take Eye Test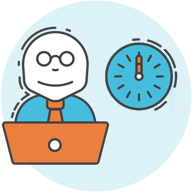 2 Doctor Review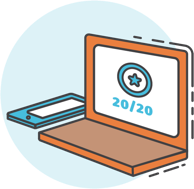 3 Get Results and 10%
off new eyewear
Step 1: Take the Eye Test. Five minutes is all it takes to be walked through how to set up your space for your exam.
We'll help you adjust your lighting and get the volume on your computer just so before the test starts with both audio and written instructions that will help you understand the entire process.
You'll start with a handful of eye tests that will pop up on your computer screen, and we'll have you stand at various distances away from it (which we'll explain how to do). Using your smartphone as a remote, during each test you'll answer and record a few multiple-choice questions. When you're finished and you've given us a little more medical information, you'll pay for the test.
Step 2: The test is reviewed by an eye doctor. Here's the best part: Within 24 hours your test will be reviewed by an ophthalmologist along with the medical history you provided and your previous prescription and you'll get your prescription along with any other medical guidance the doctor feels you need all from the comfort of your own home.
Step 3: Get your prescription. When your script is ready (or if the eyeTest.com reviewing ophthalmologist has other recommended guidance for your eye), you'll be notified and prompted to log in to your secure account where you can get your prescription and then use it at a local eye-care professional (or better yet at Lens.com or BestBuyEyeglasses.com for a soup-to-nuts online eyewear shopping experience.
It couldn't be more simple.